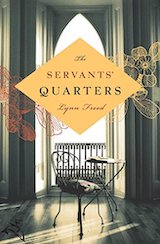 This complex and sophisticated love story evokes a vanishing world of privilege with a Pygmalion twist. Haunted by phantoms of the Second World War and the Holocaust, young Cressida lives in terror of George Harding, who, severely disfigured, has returned from the front to recover in his family's stately African home. When he plucks young Cressida's beautiful mother and her family from financial ruin, establishing them in the old servants' quarter of his estate, Cressida is swept into a future inexorably bound to his.
In the new setting, she finds that she is, after all, indentured. She is conscripted to enliven George Harding's nephew, the hopelessly timid Edgar, to make him "wild and daring." And she takes on this task with resentful fury, leading the boy astray, and, in the process, learning to manipulate differences in power, class, background and ambition.
Only slowly does she come to understand that George Harding himself is watching her. And waiting.
---
Praise for 
THE

 

SERVANTS

' 

QUARTERS
---
"Lynn Freed is a daring storyteller of inner lives and The Servant's Quarters is her most intimate novel yet. It reads like memoir, seamlessly, and in the voice of a young girl who watches those around her patch up their wounds from the war and carry on with the weight of pretense. Hers is the voice of an observant and wickedly truthful Jane Eyre."
—Amy Tan
---
"Freed's great strength as a writer — like Anne Tyler and Muriel Spark, to name but two — is that she realizes 'normal' is a word that barely, if ever, applies to human beings in real life, let alone in serious fiction . . . (She) writes with great clarity and skill, and her occupancy of Cressida's voice is exemplary. Short though this novel is, it contains multitudes — among the themes explored are wartime guilt, the Holocaust, the position of South African Jews in a fundamentally British class system and the extent to which our social relations are determined by our self-appointed roles as servants or masters."
-William Boyd, The New York Times Book Review
---
"The broadest echoes of this wonderfully engaging novel come from Jane Austen and George Eliot. For this accomplishment any reader, male or female, wants to wave hat and veil and shout brava, brava!"
-Alan Cheuse, NPR, Suggestions for Summer Reading
---
"Freed blends Dickensian musings on class with a Brontë-like love story, set against the backdrop of South Africa after the Holocaust . . . It is hard to pinpoint what is so satisfying about this novel. It is deeply atmospheric, with a high-spirited narrator who frequently endears . . . This is a love story for outsiders, set against the backdrop of the modern world. As in Charlotte Brontë's "Jane Eyre" or Marguerite Duras' "The Lover," the central figures compel and seem to deeply belong together, despite conventions. Perhaps in the end it is the strength and strangeness of the love story that carries the book. Or perhaps it is the unsettling ease with which Freed points out the hypocrisy of all of those around them. The lovers are the only two in the novel to come to grips with the past and embrace its scars as an inescapable and even attractive feature of the present."
-Margot Kaminski, San Francisco Chronicle
---
"'The Servants' Quarters' . . . is written in a most appealing voice — the wise child in a household of secrets. It's a haunting voice in literature, the child who will take charge of her own destiny and will not be told which rooms she can enter, which she cannot."
-Susan Salter Reynolds, Los Angeles Times
---
"What you'll find . . . is unblinking insight into the unruly nature of passion and the subtle imperatives of class. Her latest novel, The Servants' Quarters is . . . a story of civilization and savagery, brisk as a strong cup of tea."
—O Magazine
---
"Freed handles issues of class, wealth and dedication with a light but knowing hand, adding depth to a bittersweet love story."
—Publishers Weekly
---
"A strange and beautifully told story of love and growth."
—Booklist
---
"Bright, brittle, fierce and written with verve."
—Kirkus Reviews
Publisher: Houghton Mifflin Harcourt (HMH) (April 27, 2009)
ISBN: 0151012881
Hardcover: 256 pages